The history of Irish comics part 1: before the 20th century
Original version published 6 August 2009
Edited 16 August 2009 to add a bit about R. J. Hamerton, 1840s Punch cartoonist
Edited 11 November 2009 to add a caveat about Henry Brocas's "Loves of the Fox and the Badger", and 12 November 2009 when I came up with an explanation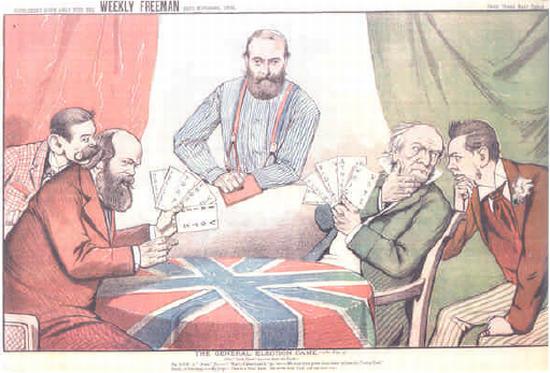 (Above: In the 1885 UK General Election, Charles Stewart Parnell's Irish Parliamentary Party holds the balance of power. Parnell deals the cards, and Tories Lord Salisbury and Randolph Churchill and Liberals William Gladstone and Joseph Chamberlain discover what hands they've been dealt. By John Fergus O'Hea, from the Weekly Freeman, 28 November 1885.)
The new issue of RedEye, a pdf magazine about comics, includes an article by Niall Kitson called "Deferred Gratification: a secret history of Irish comics".  It starts with Stephen Walsh and Kellie Strøm's The Acid Bath Case in 1992, then skims the next eight years before BrenB's anthology Toenail Clippings in 2000, and from there covers Bob Byrne, Rob Curley, Sancho, Cliodhna Lyons, Colmán Ó Raighallaigh's Irish language comics, Phil Barrett, Paddy Lynch and the Eclectic Micks.  It's well worth reading – the magazine also contains interviews with Bridgeen Gillespie, Garen Ewing, Oli Smith and Jim Medway among other features, easily worth £1 of anybody's money – but it's more a primer for the current Irish comics scene than a real history.  I figured, as the main contributor to the Irish Comics Wiki, I might be able to go back a little further.
No doubt some would claim the carvings on some of the early Irish high crosses as comic strips, and some of the illuminations in medieval manuscripts (left) as cartooning, but that would probably be a little excessive. Let's start with printed material. If we define "comics" in the McCloudian sense of images in sequence, excluding single-panel cartoons, we'd probably have to conclude that there are no true Irish comics or comics artists until the end of the 19th century. But I prefer not to draw quite such a rigid line between modern comics and other forms of cartooning.  The main reason I got involved in the Irish Comics Wiki in the first place was, finding myself part of a community of Irish cartoonists, I wanted us to have a context, a sense of having forebears in whose footsteps we follow, and that as well as looking outwards to Britain, America, Europe and even Japan for inspiration, we might find some closer to home. So, for the sake of including as many notable predecessors as possible I'll be defining "comics" as loosely as possible.
It's difficult to compile a history of Irish cartooning from the available secondary sources. Most cartoon histories use cartoons to shed light on historical events and contemporary attitudes, and have little interest in the cartoonists and their art. For obvious reasons, political cartoons are well represented in such histories, but cartoons on more general subjects are of little interest to historians and are much harder to find. Compiling a proper history would take years of research through newspaper and magazine archives, backed up with the knowledge to place styles and trends in Irish cartooning, not just in their historical context, but in the context of styles and trends in cartooning and art generally, and I'm in no position to do that just at the moment. This article is based on the knowledge I have, in which there will obviously be huge gaps, but we have to start somewhere.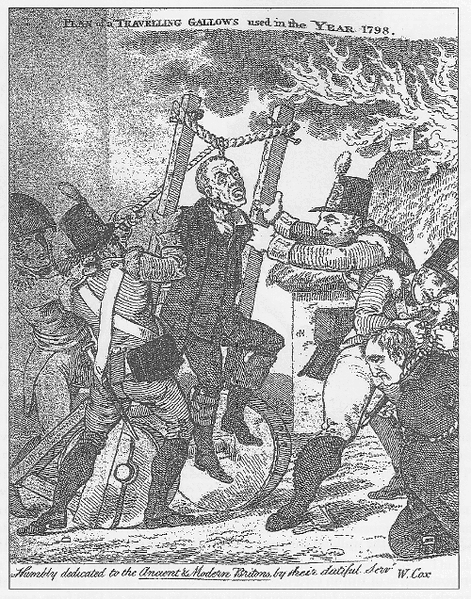 The first Irish cartoonist, as far as I have been able to find out, was Henry Brocas. Brocas was master of the Landscape and Ornament School of the Royal Dublin Society, and was also known for his engraved portraits and caricatures of society figures in Dublin journals.
I have found two references to a political cartoon credited to Brocas in Exshaw's Magazine in 1784, entitled "The Loves of the Fox and the Badger".  I have also found several references to a cartoon of the same title and date credited to, and signed by, the great English cartoonist Thomas Rowlandson.  After a bit more digging I have discovered that John Exshaw, a prominent Dublin businessman who was Lord Mayor of Dublin twice, started out importing the London Magazine from England, and then published Exshaw's London Magazine, later Exshaw's London and Gentleman's Magazine, which reprinted material from the London Magazine and the Gentleman's Magazine, with some original material of Irish interest.  In those days illustrations would have to be printed by woodblock, so unless Exshaw had access to the original blocks, if he wanted to run any illustrations from the English magazines he would have had to get them re-engraved.  So it seems Brocas got his start as a cartoonist by re-engraving cartoons by the likes of Rowlandson.
He went on to workfor the Irish Magazine, a nationalist periodical published by Walter Cox from 1807 to 1815, which published his grim, violent cartoons depicting British atrocities in the wake of the 1798 rebellion (right).  Cox was a member of the United Irishmen, and his magazine landed him in frequent trouble with the authorities. He was regularly prosecuted and spent time in jail, before finally the government paid him to emigrate and close his magazine.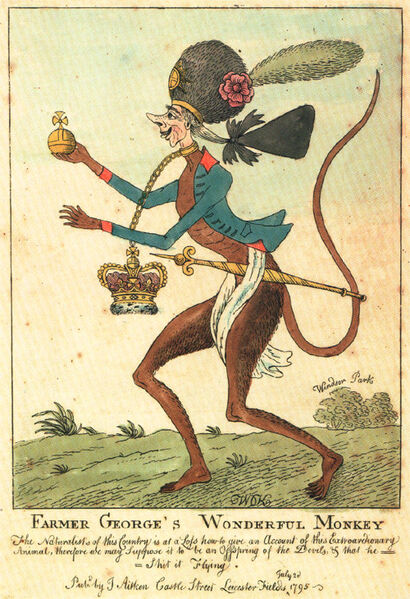 In the mid-1790s, William O'Keefe was producing prints in London lampooning George III and his Prime Minister, William Pitt the Younger (left).  I haven't been able to find out much about him, but according to Kenneth Baker's book George III: a Life in Caricature, he was Irish.
In 1822 a talented painter called John Doyle, son of a Dublin silk merchant, moved to London to exhibit his paintings. Five years later, lithographically printed cartoons of the political figures of the day began to appear monthly under the signature HB (right).  HB's caricatures were restrained, realistic likenesses, his humour genteel and soph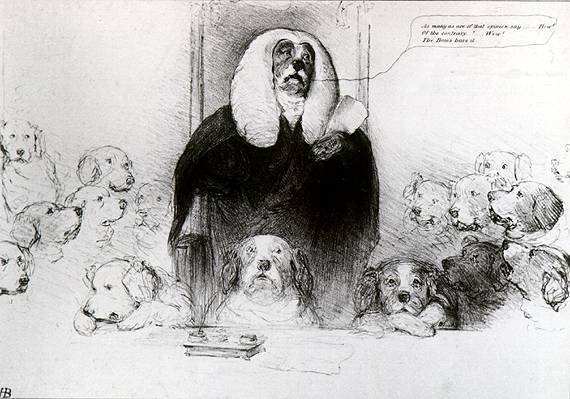 isticated, and his identity a closely guarded secret. By 1940 John Doyle was living in Hyde Park and mixing with the fashionable literati, but it wasn't until 1943 that he outed himself as HB in a letter to Robert Peel.  He continued to produce his prints, and at the height of his popularity The Times published indexes of his cartoons for collectors, until he finally retired in 1849.  His reputation had faded as his humour had got gentler, but his influence was felt on his son Richard and other illustrators like Sir John Tenniel, of Alice in Wonderland fame, who established the style that would make Punch magazine such a hit.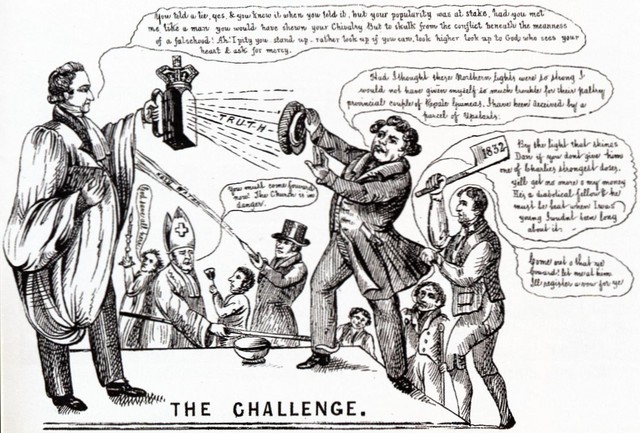 Back in Ireland in the 1840s, Daniel O'Connell and the Young Irelanders' campaign to repeal the Act of Union and re-establish the Irish parliament was in full swing, but fell on deaf ears in Belfast. His attempt to address his supporters there in 1841 was disrupted by supporters of the Presbyterian orator Henry Cooke, and the occasion degenerated into a riot. The event was recorded in a book, The Repealer Repulsed, by one of Cooke's supporters, the Prebyterian poet William McComb, which contained a number of cartoons (example left), some of which were inspired by HB's anti-Repeal prints. McComb is the earliest northern cartoonist I have yet encountered.
Another anti-O'Connell Irish cartoonist was R. J. Hamerton, a native of County Longford who moved to London, went native and drew for Punch from 1842 to 1848, sometimes under the pseudonym "Shallaballa".  He depicted O'Connell as a would-be king oppressing his subjects, and as an ogre growing fat on the Irish "pisantry". He also, in common with many English cartoonists of the time, depicted Irish people in an ape-like manner (if you do any research on cartooning and Ireland, you'll find that the English simian stereotype of the Irish is by far the most common subject of study).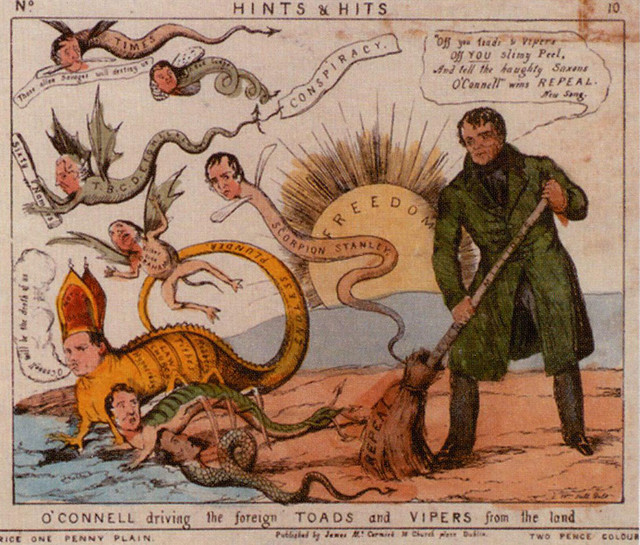 The Repeal movement continued to grow, until 1843 when O'Connell cancelled a "monster meeting" at Clontarf for fear of government violence, and was arrested for subversion. In 1844 a cartoonist going by the name of William Tell published a series of twelve cartoons called "Hints & Hits" in support of O'Connell.  The example right shows O'Connell as a new St. Patrick, driving undesireable creatures from Ireland.  Who this William Tell was we'll probably never know. Whether it was a pseudonym or his real name, sharing your name with a legend makes you impossible to Google. You'd think he'd have thought of that.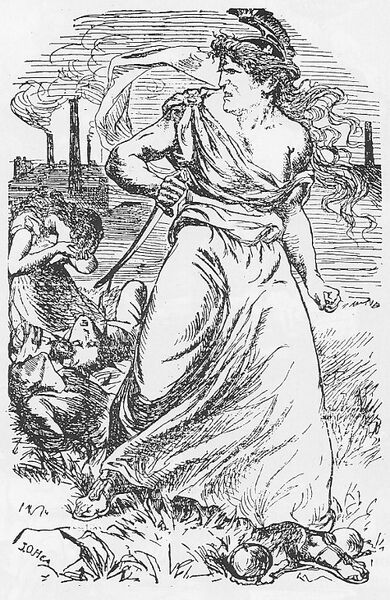 The Weekly News was founded in Dublin in 1860 by the future nationalist MP A. M. Sullivan. It carried cartoons, many critical of the British authorities, often anonymous, but including formative early work by John Fergus O'Hea (left; for an example of his mature work, see top), son of a Cork barrister who was once O'Connell's secretary, and probably the most important Irish cartoonist of the period. Sullivan was a relatively moderate nationalist who opposed the militancy of the Fenian Brotherhood, who were then carrying out bombing campaigns, but there wasn't much more tolerance for political dissent in Ireland than there was in Cox's day, and in 1968 he was jailed for publishing an article which protested against the execution in Manchester of three Fenians who had killed a policeman while springing some of their comrades from a prison van.
In the 1870s O'Hea was at the centre of a boom in humorous magazines published in Dublin.  The first was Zozimus, launched in 1870, named after a popular ballad singer of the early 19th century and modelled on English magazines like Punch.  It was primarily edited by Richard Dowling, O'Hea was chief artist, and it also featured cartoons from Harry Furniss and Wallis Mackay.  O'Hea's first cover depicted the singer Zozimus chasing the emblem characters of Punch,Judy, Fun and The Tomahawk out of Ireland, but after it folded in 1872, O'Hea moved to London to draw forThe Tomahawk.
In 1874 he was back in Dublin, and he and Dowling founded a new magazine, Ireland's Eye. Every issue featured a caricature of a notable person by O'Hea, under the pen-name "Spex", and was published in two editions: with the caricature in colour, for 6d, and with the caricature in black and white for 3d.  When it folded in 1876, Dowling founded Yorick, with cartoons by Furniss, but it only lasted a few months.  O'Hea and editor Edwin Hamilton relaunched Zozimus as Zoz, which lasted until 1879, after which they launched another magazine, Pat, which lasted for four years and also featured cartoons by Thomas Fitzpatrick, grandfather of the 1970s Irish fantasy artist Jim Fitzpatrick.
During the same period other humorous magazines were published, including Blarney (1870-71), more political than Zozimus, whose chief artist was Michael Fitzgerald; Froth (1879-1880), about which I know little; and The Jarvey (1889-1891), founded by humorist, songwriter and occasional cartoonist Percy French and chief artist Dick Orpen.  This tradition of humorous periodicals continued into the 20th century with Fitzpatrick's The Lepracaun (1905-1911), to which O'Hea was a regular contributor, and Charles E. Kelly's long-lasting Dublin Opinion (1922-1968).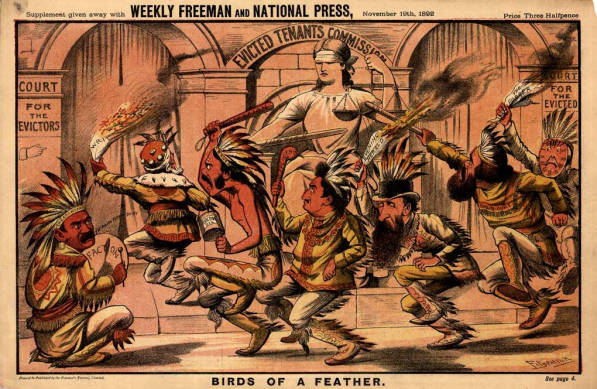 Beginning in the late 1870s, newspapers such as the United Ireland, the Nation and the Freeman's Journal supported Charles Stewart Parnell's campaigns for land reform and Home Rule, and they ran political cartoons by cartoonists like O'Hea, Fitzpatrick (left), J. D. Reigh, W. C. Mills and Phil Blake. The Parnellite propaganda could be pretty blatant at times (particularly some of Reigh's drawings for the United Ireland, which was owned by Parnell), and so could the sentimentality (the classically-dressed personification of Ireland, Erin, was regularly seen being menaced by Ireland's foes or looking sorrowful in front of a pastoral backdrop),  but the satire could be sophisticated, and the quality of the cartooning was extremely high.  Following a style which I believe was established by O'Hea at the Weekly News, the drawing was bold, with black linework more robust than the fine penmanship typical of English cartoons of the time, and grey tones that look like soft pencil or crayon – and now, using chomolithography, they could be printed in full colour. Fitzpatrick in particular took full advantage of the new technique, creating vivid, sometimes nightmarish images – although he could also turn his hand to romantic pastoralism. O'Hea was probably the best caricaturist of the group, while Reigh's strength was in detail and tone.
Aside from these nationalist outlets, Dublin also boasted a unionist paper, the Union, which was launched in early 1887.  Cartoons for its early issues were drawn by none other than Thomas Fitzpatrick, but the Union soon found themselves a cartoonist who shared their convictions: "Lex", alias Richard Moynan (right), a noted painter who had studied at the Dublin Metropolitan School of Art and the Académie Royale des Beaux-Arts in Antwerp and was shortly to become a member of the Royal Hibernian Academy.  His cartoons were large and printed in black and white, initially on a card insert, later on the front page of the paper.  Lex generally went easy on Parnell, reserving his ire for lesser members of the Irish Parliamentary Party, and Liberal leader William Gladstone. His last cartoon appeared in the paper in 1889.
About the same time as political cartooning was flowering in Ireland, the strip cartoon – narrative in sequential pictures, what we now think of as "comics" – was developing in Britain and America. William G. Baxter, one of the artists who drew Ally Sloper, celebrated as the first British cartoon character, in the 1880s, may have been Irish. In 1894 a young Irish artist started drawing strips for British comic papers – starting with the Sherlock Holmes parody "Chubb-Lock Homes" for Comic Cuts, and going on to draw strips for Funny Wonder, Puck and other papers, before leaving the field in 1917 to concentrate on his expressionist and symbolist painting. Jack Butler Yeats went on to be regarded as the most important Irish artist of the 20th century, and the first Irish artist to sell a painting for over £1 million – but he started out drawing comics.
References
Kenneth Baker, "Doyle, John [H. B.] (1797–1868)", Oxford Dictionary of National Biography, Oxford University Press, Sept 2004; online edn, Jan 2008
Kenneth Baker, George III: A Life in Caricature, Thames & Hudson, 2007
B. P. Bowen, "Dublin Humorous Periodicals of the 19th Century", Dublin Historical Record Vol 13 No 1, 1952, pp. 2-11
Collins Collection of Irish Political Cartoons, University of Illinois
Roy Douglas, Liam Harte & Jim O'Hara, Drawing Conclusions: a Cartoon History of Anglo-Irish Relations 1798-1998, The Blackstaff Press, 1998
Peter Gray, "'hints and hits': Irish caricature and the trial of Daniel O'Connell, 1843–4", History Ireland Vol 12 issue 4, 2004
Máire Kennedy, "Printer to the City: John Exshaw, Lord Mayor of Dublin, 1789-90", Gallery C, 2006
Patrick Maume, "Repelling the Repealer: William McComb's caricatures of Daniel O'Connell", History Ireland Vol 13 issue 2, 2005
Multitext Project in Irish History: Cartoons and Caricatures of O'Connell
Maebh O'Regan, "Richard Moynan: Irish Artist and Unionist Propagandist", Éire-Ireland 39, 2004
P. J. Raftery, "The Brocas family, notable Dublin artists", Dublin Historical Record Vol 17, No 1, December 1961, pp. 25-34
Theo Snoddy, Dictionary of Irish Artists: 20th Century, Merlin Publishing, 2002
M. H. Spielmann, The History of Punch, 1895, pp. 452-453
G. J. Watson, Books, "The Independent", 1 January 1994