13th Sep 2008
Couldn't do one of these last weekend because I was in Scotland, specifically the western highlands, even more specifically Oban.  Nice place.  All the good weather in the entire British Isles seemed to go there for a holiday the same time as we did.  FlyBe forgot my bag on the flight back (there was a last minute change of plane, which probably had something to do with it) but they got it to me by courier the following afternoon, so overall I'd have to say that was some pretty good customer service.  If you're interested, my photos from the weekend are here.  Steeve, who's a proper photographer with a camera that cost about as much as my car, also took some pictures, which can be seen here.  Here's one of Oban at sunset which I'm quite proud of:
Now.  Webcomics.
Wonderella is running for Vice President…
The FreakAngels, or two of them, anyway, drink foul alcoholic beverages and make plans. Then there's the morning after…
Our heroes (and our heroine's depraved brother) come under attack, in Lilly MacKenzie and the Mines of Charybdis…
Two takes on the CERN particle collider black hole contraption from Jesus and Mo, and Welcome to the Future…
And finally, not a webcomic, but an old-fashioned printed one.  The DFC, the subscription-only kids' weekly from Random House, has a new strip called Mezolith by Ben Haggarty and Adam Brockbank.  It's a stone age adventure about a young boy who wants to be a hunter, and it's gorgeous – look!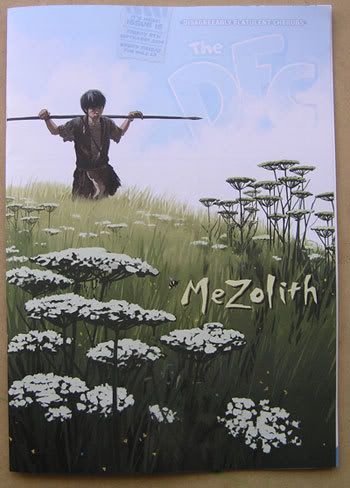 Definitely the highlight of the current lineup, which also incudes Philip Pullman's John Blake, Emma Vieceli's Violet, Peadar Ó Guilín and Laura Howell's Sneaky, the Cleverest Elephant in the World, the Ethrington Brothers' Monkey Nuts, and loads more.