28th Jul 2010
I'm starting to notice a pattern. Salesmanship, I think, tires me out.  Summer convention season – I do a bunch of cons and comics shows and stuff, and that brain-tiredness that makes making art next to impossible catches up with me again. Which means that, for the second week running, there's no Cattle Raid of Cooley. And you have no idea how many times I have written, deleted and rewritten this paragraph. I shall rest up, avoid incurring mental injury by trying to force it, and return stronger – hopefully before too much longer. Maybe even next Wednesday. Fingers crossed.
But I'll leave you with something to be going on with. You'll no doubt remember last year I offered the first part of The History of Irish Comics, tracing the earliest examples of the cartoonist's art in Ireland to Henry Brocas and William O'Keefe at the turn of the 19th century. Over the last couple of weeks I've been able to push it back even further. First, I discovered Michael Stoppelaer, a Dublin-born singer, actor, portrait-painter and caricaturist, who died in 1777. Flushed with the success of that discovery, I immediately went one better, leaping back another two hundred years!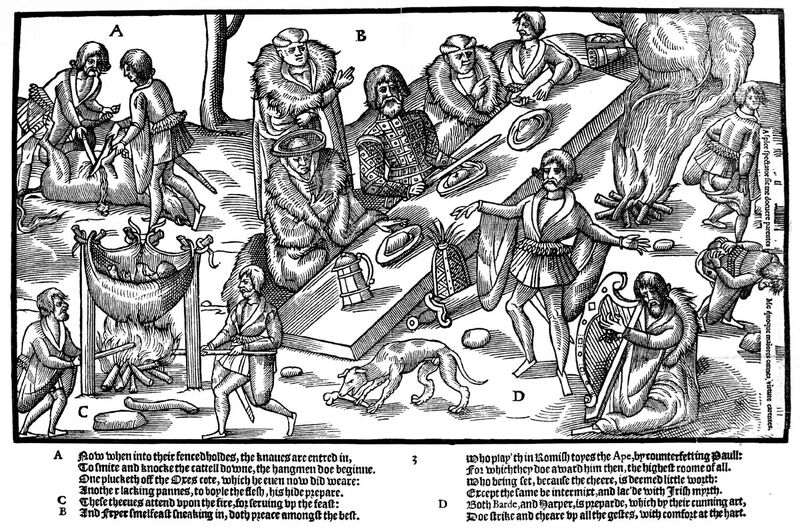 In 1578, a customs agent called John Derricke, based in Drogheda and working for Sir Henry Sidney, Elizabeth I's Lord Deputy of Ireland, witnessed Sidney's campaigns against the Irish and their "woodkarne" guerrilla raids against English settlements, and he wrote a book, The Image of Irelande, about them. The first part of the book is a long poem of indifferent quality about the barbarous Irish and their violent and incomprehensible ways, and how that justifies the English in their attempts to rule them. The second part is, for our purposes, the interesting bit: a sequence of twelve double-page woodcut illustrations, with accompanying verse narration and occasional dialogue, relating how, after a successful raid on a settlement and a party to celebrate, complete with braigeteóirí, professional farters (see above), the Irish woodkarne are defeated twice in battle by Sir Henry Sidney, whose army parades in triumph in Dublin before receiving the submission of Turlough Luineach Ó Néill, king of Tyrone, his former rebel ally Rory Óg Ó More reduced to living in the forest with the wolves.
You'll sometimes come across one or other of Derricke's woodcuts, our of context, in a history book, because they are a unique and invaluable visual resource for the dress and military tactics of the period – but they were created as a sequence, and that sequence carries a narrative. They are, by any definition, a comic strip, created in Ireland when Shakespeare was a spotty adolescent. Okay, it's by an Englishman who doesn't think much of the Irish, but you can't have everything.