14th Nov 2008
Comixology has posted a list of their top five webcomics of 2008.  Some good choices, some I don't really get, but obviously tastes differ, so I thought I'd pick it up as a meme and do my own list.  Hopefully lots of people'll do the same.  In no particular order:
1. Girls With Slingshots by Danielle Corsetto
A comic about sex, and relationships, but mainly about sex, from a female perspective.  And refreshingly, not from a male-hostile female perspective.  It takes what I would call the Calvin & Hobbes format – a strip of four panels or so, with a punchline, every weekday, usually building into longer story arcs.  The two main characters are Hazel – skinny, uptight, redhead journalist – and Jamie – curvy, fun-loving, brunette florist.
Hazel is sexually frustrated, but thinks any man who wants to sleep with her is a pervert who's only after one thing, so she remains sexually frustrated.  Her current beau is Zach, and she's very keen to sleep with him, but he's not ready for that yet, which sets up some amusing role-reversals from the stereotype.  Jamie has plenty of intimate encounters with plenty of men (and one woman), but successfully remains a virgin.  Other characters include Jameson the barista, who makes a mean cup of coffee and wears a bandana under his bandana ("it's like a bra for my head"), for reasons that have been revealed; Clarice, who works in a porn store but remains a librarian at heart, and of course, McPedro, the allegedly Irish cactus who talks to Hazel, but only when she's drinking.
2. FreakAngels by Warren Ellis and Paul Duffield
Apocalyptic science fiction serial.  Pyschic twenty-somethings use their powers to protect the district of Whitechapel in a flooded future London – but it seems they were somehow responsible for the global cataclysm that caused the flooding.  Ellis has always been the mainstream comics creator most committed to using t'inteweb to get his work out, and now he's doing it in the most direct way possible.  Artist Paul Duffield does great shadows, and creates a very vivid sense of place.
3. Jesus and Mo by someone who prefers to remain nameless
Jesus and Mohammed have a pint down the pub, share a bed (in Morcambe and Wise stylee), play computer games, read the paper, and inadvertently point out the absurdities in their respective religions.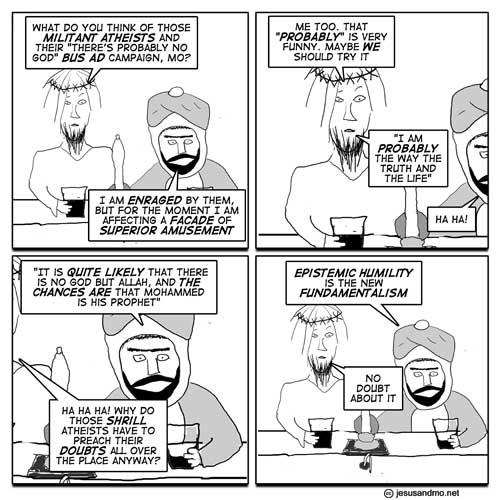 4. Flatmates by Maeve Clancy
There's a bittersweet quality to this weekly strip.  Not sure why Paul and Seán are drawn as cartoon dogs while all the other characters are people, but it works.
5. Things Change by Derik A Badman
Contemporary stories inspired by Ovid's Metamorphoses (which were themselves Greek myths updated for a Roman audience), with no gods or magic involved.  The earlier stories were mostly interesting experiments in form and irony, but the third book has been utterly compelling reading so far.  A young widower, whose wife's death was coincidentally linked with his encounter with a beautiful near neighbour, and a teenage boy who has been careless with the affections of his female classmates, seem to be about to share a similar fate.
All the graphics I've hotlinked here are of course copyright to their respective creators.  I hope they don't mind me hotlinking to them, as I'm doing so with the purpose of pointing readers to their work.